How Ashby's Allsorts came about
Based in Thrapston Ashby's Allsorts is a small family run business led by the owner/director Greg Ashby. Greg is a Chartered Engineer with a degree in Engineering and has further experience of project management, people management and managing health and safety.
Greg from a young age was building fences, walls, garden ponds, patios, etc for fun. Then with his background experience of engineering and making things to specification he competently revamped his own house and his families with projects like new bathrooms, en suites, kitchens, patios and more. Greg decided he wanted to be closer to his family and determine his own future, so Ashby's Allsorts was established in 2012 as a new career path.
Greg's engineering background has given him a good eye for detail and can work from your ideas or detailed plans. He will work closely with you to give you confidence and deliver your requirements. Greg prides himself on being a perfectionist so you are guaranteed to get a finish that is of a high quality.
Greg can also design bespoke designs and has successfully patented designs that have been used in industry. This skill has then developed further with this business and Greg finds himself regularly making bespoke items.
Ashby's Allsorts started trading by Greg working as a sole trader but due to customer demand the business has evolved into a small limited company. This is a result of Greg's good working practice and good customer relations.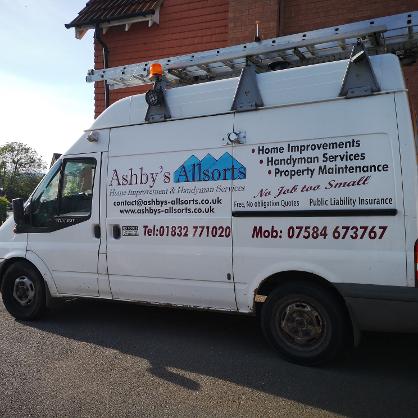 ©
Ashby's Allsorts Limited 2019. All rights reserved.